Rush Clockwork Angels Tour DVD Coming May 21st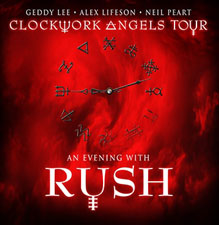 According to a brief announcement at MusicTap, Rush's forthcoming Live Concert DVD from their Clockwork Angels tour is set to be released on May 21st; far sooner than expected. It's somewhat interesting that the band would decide to release the Live DVD presumably in the middle of their North American tour later this year (though they have yet to announce the tour dates).

From the post:

Another DVD planned for release is Clockwork Angels Live featuring Rush, planned for May 21 via Concord Records.

Rush filmed two consecutive tour dates last year in preparation for the Live DVD - November 25th in Phoenix and November 28th in Dallas. Based on reports, the Dallas show is expected to be the primary show for the DVD while the Phoenix show will be used for the inclusion of other songs not played in Dallas and any additional filler and/or corrections needed.

No additional information is available at this time on the release, however more details will certainly begin to surface over the next couple of months.

Thanks to Ed from RushIsABand for passing along the news.
---