Expanded Rush Catalog Now Available at HDTracks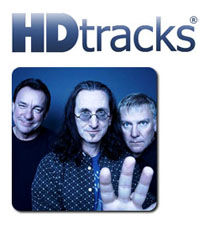 For years, HDTracks.Com has been offering audiophiles access to Master Quality music downloads that far surpass the quality of today's MP3 files and even most CDs. With file formats of either 96kHz/24-bit or 192kHz/24-bit, HDTrack music downloads have up to twice the bit depth of CDs and up to 9612Kbps of sonic information!

"An HDtracks file is a one to one exact digital copy of the master tape. There is no better way to hear recorded music on this planet than hearing an HDtracks hi resolution file played back via your computer or your digital music server with a good pair of speakers."

Now, HDTracks is offering up an expanded collection of Rush albums available in the 96kHz/24-bit format. Available albums and compilations include:

The Studio Albums 1989-2007

Presto

Roll the Bones

Counterparts

Test for Echo

Vapor Trails

Feedback

Snakes & Arrows

Clockwork Angels

Sector One

Sector Two

Sector Three

Ordering of any Rush album/compilation is available at this LINK.

Thanks to reader Mike Cronis for the news.
---