Rush's Clockwork Angels Tour Concert Film Trailer Now Online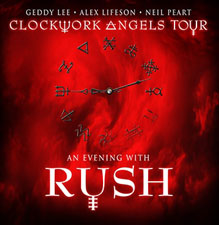 Update (06//11/2013 1:45pm): Click HERE to download the MP4 version of the trailer.

---

Update (06/11/2013): The trailer is now available on Facebook at this LINK. No FB account required to view.

---

Update (06/10/2013): You can now access the trailer at this LINK. Password: clockwork. Enjoy it while it lasts.

---

Update (06/10/2013): It appears that both the original Fadoo trailer and the YouTube trailer have been removed. Apparently, both were release prematurely. Hopefully they'll be made available again in the near future.

---

The trailer for Rush's upcoming Clockwork Angels concert film is now online.

The 2-minute long trailer, which was released by Fadoo Productions, does not hint at the official release date of the concert film, however it is expected to be available some time this fall and in time for the holiday season.

As the trailer indicates, the November 28, 2012 concert in Dallas, Texas at the American Airlines Center was the primary show for the concert film. However Rush also filmed the November 25 show at the US Airways Center in Phoenix, Arizona. It's expected that the Phoenix show will act as a back-up and set list filler for the film.

You can watch the trailer via the embedded player below or directly at this LINK.

Thanks to reader Mike Sword for the news.

---

---

We'll have more news about the concert film as it becomes available.
---
Related News Stories
[Rush Clockwork Angels Tour DVD Coming in September - February 25th, 2013]
[Rush Clockwork Angels Tour DVD Not Coming May 21st - January 16th, 2013]
[Rush Clockwork Angels Tour DVD Coming May 21st - January 11th, 2013]
---