Rush Begin the Final Leg of their Clockwork Angels Tour in Hershey Park Tonight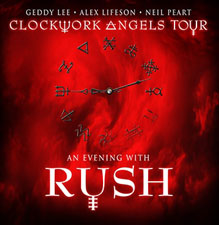 Update: (06/24/2013): Click HERE for a massive gallery of photos that I snapped off during the show in Hershey. Enjoy-

---

Back on September 7th, 2012, nearly 290 days ago, Rush embarked on their Clockwork Angels World Tour, celebrating the release of their critically acclaimed album of the same name. The tour, which has covered most of North America as well as parts of Europe, is now set resume tonight in Hershey Park, Pennsylvania. Tonight's show marks the beginning of the final major leg of the band's 73-date tour.

Including tonight, a mere 18 dates remain with one final 10-day break taking place in the middle of July. Before that break, Rush will be playing in stops across the Eastern and Central portions of the US and Canada. After the break, on July 24th, the band will close out the tour with stops in Western Canada, Oregon, Utah, Colorado and, finally, Kansas City, Missouri on August 4th.

The band will then take a well-deserved break. Interesting to note is the fact that, outside of the year 2009, Rush has been touring essentially non-stop since they launched their tour in support of Snakes & Arrows back in June of 2007. Since then, and including the remaining dates on this tour, the band will have played a total of 271 dates over a six-year span. Not bad for a band entering their fourth decade of existence.

So while we may not know what the future holds in store for Rush after they take their final bow in Kansas City six short weeks from now, we can all look back at these past six years and revel in the fact that our favorite band has been as active - and relevant - as any musical performing act in the business.

For all those attending the final shows, have a blast (and look for yours truly at the Hershey show tonight).

For a complete list of the tour dates on the Clockwork Angels tour, click HERE.

And for those who prefer to be spoiled, you can check out all the set list changes during the tour via this LINK.
---
Related News Stories
[Rush Perform At the Sweden Rock Festival Tonight - June 8th, 2013]
[Rush Bring Their Clockwork Angels Tour To Europe Tonight - May 22nd, 2013]
[Rush and the Jersey Shore - First Leg of the 2013 Clockwork Angels Tour Ends Tonight in Atlantic City - May 11th, 2013]
[Rush's 2013 Clockwork Angels Tour Launches Tonight - April 23rd, 2013]
[Rush Announce New Tour Date at the Festival d'été de Québec - March 15th, 2013]
[Rush Announce Second Halifax Show - July 14th - March 11th, 2013]
[Rush To Perform at the Ottawa Bluesfest on July 8th - February 28th, 2013]
[Rush Announce Initial 2013 North American Clockwork Angel Tour Dates - January 22nd, 2013]
[Rush Confirms North American Clockwork Angels Tour for 2013 - December 6th, 2012]
[Rush Clockwork Angels Tour Update: 2012 Leg Now Complete - December 3rd, 2012]
[Rush Clockwork Angels Tour Update: Second Leg Complete - November 4th, 2012]
[Rush Returns Home - Rocks Out Toronto - October 17th, 2012]
[Rush's Clockwork Angels Tour Resumes Tonight in Bridgeport, CT - October 10th, 2012]
[Rush Clockwork Angels Tour Update: First Leg Complete - October 1st, 2012]
[Alex Lifeson Talks About Clockwork Angels Set List Changes - September 17th, 2012]
[Rush Add San Diego Date to the Clockwork Angels Tour - September 10th, 2012]
[Rush's Clockwork Angels Tour Begins - Set List Revealed LIVE - September 7th, 2012]
---