Rush Perform At the Sweden Rock Festival Tonight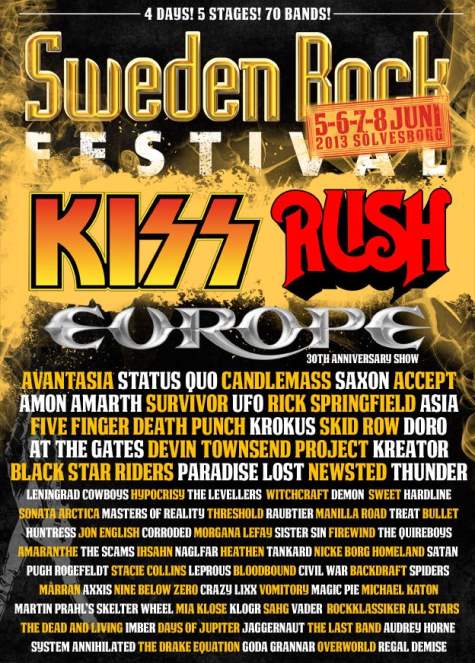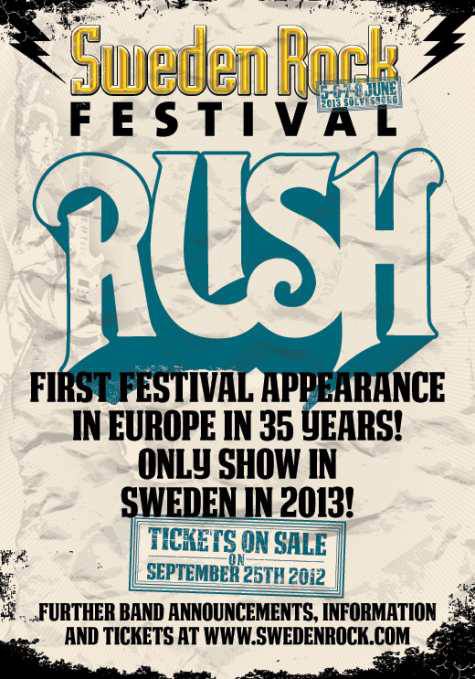 Update (06/10/2013): Click HERE for a gallery of photos from the Sweden Rock Festival performance.

---

Update (06/08/2013): As expected, Rush did play a shortened set list at the festival tonight. You can check out the set list at this LINK.

---

Rush is set to take the stage at the Sweden Rock Festival tonight as the European leg of their Clockwork Angels tour is almost complete. Rush's appearance at the festival is certainly a rare one. The last time the band played a European festival was back on June 4th, 1979 when they appeared at the Pink Pop Festival during their Hemispheres Tour.

Due to the nature of the four-day long festival, it appears that Rush will not perform their usual 3-hour set. According to a posting at the festival's website, Rush will play on the Festival Stage beginning at 9:30PM and playing through to 11:45PM, presumably without an intermission. As usual, we'll have a complete set list for the show once we get a report in.

Rumor has it that part or all of the festival acts will be filmed. That said, there is a very good possibility of some professional footage of Rush being released in the future; possibly as part of their upcoming Clockwork Angels Live DVD, expected later this year. Again, both the filming and certainly the inclusion on any future footage on a DVD set is purely rumor and speculation at this point.

After the festival performance, Rush will close out their European leg with a stop at the Hartwell Arena in Helsinki, Finland. The band will then break for elevan days before resuming the final leg of the tour on June 21st in Hershey, Pennsylvania.

For a complete list of the remaining dates, please visit the tour dates section of the site.
---
Related News Stories
[Rush Bring Their Clockwork Angels Tour To Europe Tonight - May 22nd, 2013]
[Rush and the Jersey Shore - First Leg of the 2013 Clockwork Angels Tour Ends Tonight in Atlantic City - May 11th, 2013]
[Rush's 2013 Clockwork Angels Tour Launches Tonight - April 23rd, 2013]
[Rush Announce New Tour Date at the Festival d'été de Québec - March 15th, 2013]
[Rush Announce Second Halifax Show - July 14th - March 11th, 2013]
[Rush To Perform at the Ottawa Bluesfest on July 8th - February 28th, 2013]
[Rush Announce Initial 2013 North American Clockwork Angel Tour Dates - January 22nd, 2013]
[Rush Confirms North American Clockwork Angels Tour for 2013 - December 6th, 2012]
[Rush Clockwork Angels Tour Update: 2012 Leg Now Complete - December 3rd, 2012]
[Rush Clockwork Angels Tour Update: Second Leg Complete - November 4th, 2012]
[Rush Returns Home - Rocks Out Toronto - October 17th, 2012]
[Rush's Clockwork Angels Tour Resumes Tonight in Bridgeport, CT - October 10th, 2012]
[Rush Clockwork Angels Tour Update: First Leg Complete - October 1st, 2012]
[Alex Lifeson Talks About Clockwork Angels Set List Changes - September 17th, 2012]
[Rush Add San Diego Date to the Clockwork Angels Tour - September 10th, 2012]
[Rush's Clockwork Angels Tour Begins - Set List Revealed LIVE - September 7th, 2012]
---