Rhythm Magazine Name Geddy Lee and Neil Peart the Greatest Rhythm Section of All Time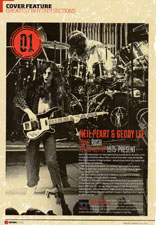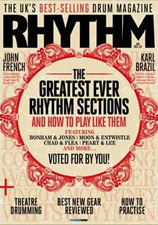 The July 2013 issue of the UK's Rhythm Magazine includes a feature on the 25 greatest rhythm sections of all time. The reader's poll placed Rush's rhythm combination of Geddy Lee and Neil Peart at the top of the list. From the issue:

Rock's foremost power trio have been locking in perfectly for 40 years, so it's no surprise you voted Messrs Peart and Lee the Number One rhythm section in huge numbers - almost 50% of the overall vote. With every new Rush album, Lee and Peart again push the envelope of what a power trio - in which the rhythm section often shines brightest - can accomplish in rock. Neil Peart admits that this kind of tightness has taken a bit of time to achieve, though, as he told Rhythm recently. "If there is a little train wreck among the three of us, I can suddenly run on two tracks now. I can be playing what I need to be right, but if one of the guys is half a bar out I can say, 'Okay, if I drop that half-bar we'll all be together again.' Even sometimes if I make an error of execution that throws me off, I can still hear the time and that's 45 years of getting to that stage to be able to do that."

Click HERE to view a full-size scan of the accompanying magazine article.

Thanks to Ed from RushIsABand for the news.
---