R is for Rush: Recording & Mixing R40 Live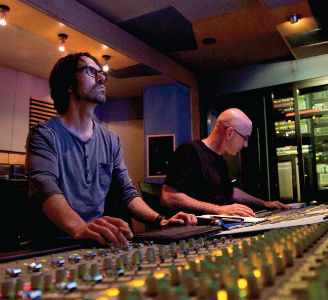 Sound on Sound Magazine's January 2016 issue includes a lengthy article detailing the challenges David Bottrill, Rush's sound enginerr, faced during the recording, mixing, and production of Rush's R40 Live live album and concert DVD.

From the article:

The weeks that followed the recordings were spent doing general work on the session while trying to get approvals on the set and the songs to be used. Knowing that there was a hard deadline for the release, David managed his time by starting to shape the sounds of the second day's show. It was a really strong performance, and we all felt confident that it would make up the bulk of the release.

David and I mix entirely 'in the box', with mirrored setups based around Universal Audio Apollo interface/DSP units. We both own outboard, but have found that the quality of plug-ins and converters these days, coupled with the universal expectation of recall, means that the ITB approach just makes more sense. For this project, we also brought in an SSL Nucleus: David has tried a lot of control surfaces, but having spent the majority of his life working on SSL desks and having owned an AWS900, it seemed like a natural progression for him. "Using a controller is all about tactility for me, because that's how I grew up working. It's about being able to connect with my mix, not my computer."

You can read the entire article at this LINK.

Thanks to Joe Pesch for passing along the article.
---