A Sneak Peek into Rush: Wandering the Face of the Earth - The Official Touring History Book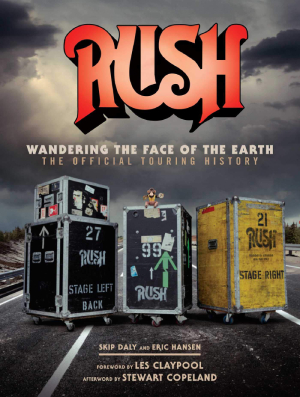 The highly anticipated release of the new Rush book
Wandering the Face of the Earth: The Official Touring History
is now just a month away! Last month, we brought you some
exclusive content
from the upcoming book including an excerpt from the foreword by Les Claypool and some pictures from Geddy Lee's own private collection.
Today, thanks once again to James Faccinto of
Insight Editions
, we have several new sneak-peeks into the book including the official title page, a sample tour history page from
A Farewell to Kings
, and the opening chapter to the section on the band's tour of
All The World's a Stage
. You can access high-resolution samples of each page via the thumbnail images below.
There's also an expanded description of the book that was posted at
Insight Editions
:
Fondly known as the Holy Triumvirate, Rush is one of the greatest bands in rock-and-roll history. From humble beginnings as a Toronto-area band playing middle school gymnasiums, churches, and coffee houses, to their rise, becoming one of the world's most sought-after live acts, selling out massive arenas around the globe, Alex Lifeson, Geddy Lee, and Neil Peart's ascent has been a journey of perseverance. This official touring history covers that journey from 1968 to the final show in 2015.

City by city, show by show, this band created a rabid fan base the hard way: through non-stop, grueling touring. From taking turns driving the van to jet-setting around the world, Rush never lost sight of what made them great- the laser focus of being a working band- playing for hours every night, with an ever-growing set list and stage show, to adoring fans around the globe. With next-to-no media coverage, tepid album reviews, and the general disdain of the music world, Rush put in the work to keep the fans that kept coming back engaged and wanting more.

This book includes every set list, every opening act, and every noteworthy moment, all meticulously researched by the authors and vetted by the band members themselves. This is the must-have tour compendium for Rush fans. Rush: Wandering the Face of the Earth covers Rush's storied touring career with never-before-seen photographs and interviews from the people that were there.
Additional information from the book's publisher
Insight Editions
is available via this
LINK
.
Once again, many thanks to James Faccinto for sharing this new information.
Rush: Wandering the Face of the Earth: The Official Touring History
will be released on October 29th.
---