Rush Icon Enhanced Edition Coming July 19th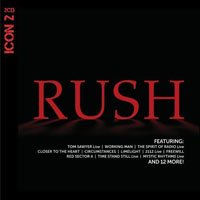 Last October, Universal released a Rush compilation disc under the "ICON" series. The "ICON" series includes artists ranging from KISS to Diana Ross, and has the tag line "Great Artists, Great Songs, Great Value!" Though there are many Rush compilation discs out there, ICON was unique in that the price was very reasonable ($7.99) and the tracklist featured a lot of B-side classics.

Now, coming this July 19th, is an 2-disc enhanced version. Where the original version only featured studio tracks, the enhanced version's second CD will include a selection of live tracks taken from All The World's A Stage, Exit Stage Left, Grace Under Pressure Live and A Show of Hands.

Here's the tracklist for both CD's:

Disc 1
1. Working Man
2. Fly Be Night
3. The Necromancer
4. The Twilight Zone
5. Closer To the Heart
6. Circumstances
7. Freewill
8. Limelight
9. The Analog Kid
10. Red Sector A
11. Marathon
12. Force Ten

Disc 2
1. Bastille Day Live
2. 2112 Live
3. The Spirit of Radio Live
4. Tom Sawyer Live
5. La Villa Strangiato Live
6. Closer To the Heart Live
7. New World Man Live
8. Vital Signs Live
9. The Big Money Live
10. Mystic Rhythms Live
11. Time Stand Still Live

You can pre-order the enhanced Rush ICON via this LINK.

For more information on and images from the original Rush ICON compilation CD, click HERE.

Thanks to RushFanForever and Eric from Power Windows for the information.