Rush Voted the #1 Greatest Live Act in the World Today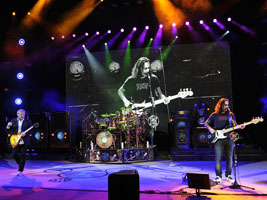 MusicRadar.com recently conducted a poll with its readers; asking them to select the best live act in the world today. The results? It wasn't even close. Rush came away with the #1 spot, blowing away such notable competition as Iron Maiden, AC/DC, Metallica and yes even Lady Gaga:


Rush: So there we have it. The greatest live act in the world today is a Canadian trio who have been taking their hugely popular brand of progressive rock on the road for nigh-on four decades.

Rush are still selling out arenas across the globe and anyone who attended the recent Time Machine shows in the UK will confirm that they were nothing short of captivating for three and a half hours. Geddy, Alex and Neil, we salute you.

Check out the entire Top 30 list via this LINK.

Thanks to RushFanForever and Callum Mackay for passing along the news.