Alex Lifeson Limited Edition Autographed Art Work Now For Sale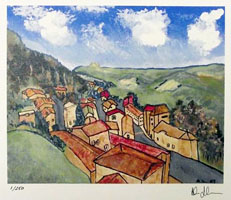 Back in October, we let you know about Alex's participation in the annual Kidney Foundation of Canada's A Brush of Hope charity auction where an original painting by Alex, called Sun Dance sold for an amazing $7,000! Alex has been donating his original paintings to the A Brush of Hope charity auction for a number of years now so it's exciting to hear that a signed print from an original painting that he donated for the 2007 auction will now be available for sale on a strict limited run of 250 copies. From the Brush of Hope Facebook Page:

A Brush of Hope - Celebrity Paintings for Kidney Research
ALEX LIFESON limited edition prints ON SALE NOW! Here is a sneak peek at the print. The image is 8 X 10. The page itself is 13 X 15. This is something special! There are only 250 prints available, each one with an original signature by Alex himself! Price is only $250, plus $20 for shipping and handling ($25 to the USA). International purchasers should contact us for a shipping quote). Just in time for Christmas!! It comes with a certificate of authenticity too!

The auction for these prints is now underway and can be accessed HERE.

Thanks to reader RushFanForever for passing along the news.
---
Related News Stories
[
Alex Lifeson Donates Painting for A Brush of Hope Charity
- October 4th, 2011]
---