Rush Named Best Live Act of 2011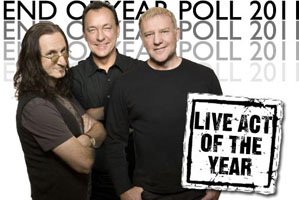 Planet Rock recently conducted a poll asking readers to select, among other categories, the best Live Act of 2011. Coming out on top was, of course, Rush :-)

Rush have got nothing left to prove. Their devoted fan base will turn out to see them whenever they can, and their albums will always sell. After nearly 40 years in the business you would think that they might be starting to rest on their laurels.

Wrong.

The Time Machine Tour 2011 may be their best live show for two decades, and that's saying something because most of their other tours have been pretty damn special too.

A three hour set included two songs from their forthcoming album, Clockwork Angels, some of their greatest hits, oh, and the WHOLE OF MOVING PICTURES, all played to perfection.

If you saw Rush this year then than none of this comes as a surprise. The likelihood is that the show you saw is your favourite show of the year. We know this because that's what EVERYONE says who managed to catch one of the band's gigs in 2011.

Exhilarating, remarkable, spectacular... none of these words can quite capture what makes a Rush concert so special, but one thing is for certain - if you missed the band this time round then you seriously missed out.

Thanks to RushFanForever for passing along the news.