Rush's 2112 Coming To Rock Band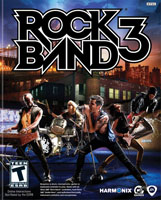 Rock Band has just announced that it will be releasing '2112' in its entirety on the Rock Back Store on December 31st. From the announcement:

Rush's ambitious seven-part suite "2112" will come to the Rock Band Music Store to ring in 2012!

In 1976, legendary Canadian rock trio Rush released their groundbreaking fourth studio album, 2112. With its opening track - a 20-minute, seven-part suite known as "2112" - Rush painted a picture of a sci-fi world in the midst of a revolution, controlled by technology. An alternate take of this epic suite, largely considered one of the most important pieces in progressive rock, comes to Rock Band just in time for the New Year.

"2112" will be offered as three separate playable packages: one combines "Overture" and "The Temple of Syrinx"; the second features "Discovery" and "Presentation"; and the final track brings "Oracle: The Dream," "Soliloquy," and "Grand Finale."

Xbox 360 and PlayStation 3 players have the option to purchase the single Rush "2112" pack, which features all three of the above tracks, as well as one, 20-minute marathon medley of all seven parts of the suite, exclusively available in this special pack. Additionally, as a bonus, players who purchase the pack will receive Pro Guitar and Pro Bass upgrades for all three packages, as well as a Pro Guitar and Pro Bass upgrade for the medley for free!

The tracks will be available as the "Rush '2112'" pack for $5.49 with all tracks available for purchase individually for $1.99 on Xbox 360 & PlayStation 3, and $2.00 on Wii. Tracks marked with "X" will offer Pro Guitar and Pro Bass expansions for $0.99 per song if purchased individually.

Thanks to Ed from RushIsABand for passing along the news.
---
Related News Stories
[
Rush Adds Three New Tracks to RockBand DLC
- December 9th, 2011]
---