Alex Lifeson's Picks His Favorite Christmas Songs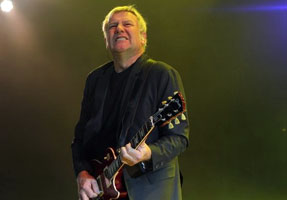 A new feature over at MusicRadar.com has eleven rock stars picking their favorite Christmas songs. Among the eleven was Alex Lifeson whose choice was Little Drummer Boy:

"I always liked the Little Drummer Boy because of the tonality of the song. There was always something very plaintive about it. It wasn't one of those 'up,' joyous Christmas songs, which tend to get a little overdone.

Actually, I did a version of it a while ago that came out nice. "On the other hand, I do like upbeat Christmas songs, so I'd say my second pick would be Joy To The World – not anybody's version, in particular; I just like the song itself. It's spirited and very 'Ho, ho, ho!' [laughs]"

Click HERE to listen to Alex Lifeson's rendition of Little Drummer Boy which originally appeared on Merry Axemas Vol. 1 back in 1997.

Thanks to RushFanForever for the news.