Alex Lifeson Featured in Red Hot Chili Peppers' Chad Smith Podcast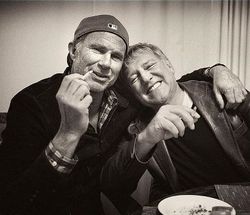 A press release from MusicRadar.Com yesterday announced that a new podcast series with Red Hot Chili Peppers' Chad Smith will feature Alex Lifeson as the first guest. The poscast, which is titled In Conversation, will premiere next Monday, May 13th.

From the press release:

Multiple award winning and Rock And Roll Hall Of Fame inductee, Smith hasn't lost sight of what it's like to be a fan and last month, a few days before the legendary Canadian trio Rush were inducted into the Rock And Roll Hall Of Fame, he indulged his inner prog rocker and joined iconic guitarist Alex Lifeson for a laugh-filled, leisurely dinner at the Sunset Marquis in West Hollywood, California.

"The invisible interview -- that's what I call it," says Smith. "Friends, thoughts, information -- why do you do what you do? Admiration, respect, insight and maybe a surprise."

In Conversation is not a traditional interview; it's an insight into the personal and professional lives of two great musicians. Over striped sea bass and baked duck, Smith and Lifeson enthusiastically hold forth on a variety of topics. Although their histories and bands couldn't be more different, their commitment to unconventional self-expression shows a deep, mutual bond.

"I've been a Rush fan since high school," says Smith. "Neil [Peart] gets a lot of attention, as he should, but Al is under appreciated, I think. He is as great a musician as he is to be around. I'm honored for him to be my first. He was gentle with me!"

The first part of In Conversation with Lifeson will be published on Monday, May 13th at www.musicradar.com/chadsmith. New installments will then air once a week for three consecutive weeks.

Thanks to Ed from RushIsABand for the news.
---