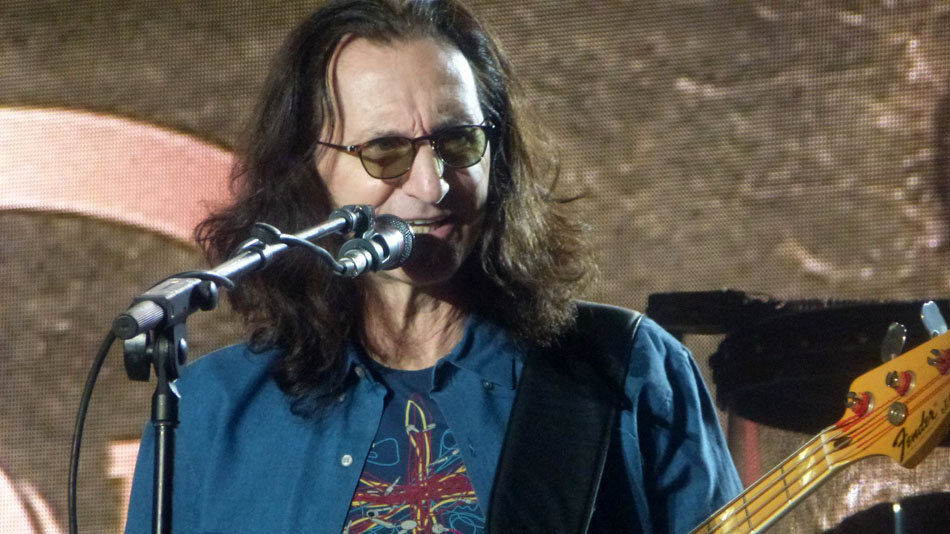 Over the past week, Rush has been playing shows throughout the United Kingdom, with their final UK stop occurring tonight at the SECC in Glasgow, Scotland. During Rush's stay in the UK, Geddy Lee has been wearing his interview hat as he discusses the band's return to England and Scotland with several newspapers.

Up first is the article The real reason Rush are still rocking 40 years on from The Herald Scotland. In this piece, Geddy talks about numerous topics including the Clockwork Angels album and tour, Rush's recent induction into the Rock & Roll Hall of Fame and the "essence of Rush":

"We're an unusual band, and our sound isn't palatable for every taste," says the singer and bassist.

"We're not the kind of band you can put on in the background while preparing dinner and drinking a glass of Chardonnay. We're a strange animal and I understand why we polarise people."

There is truth in the fact that Rush are unlikely to soundtrack many dinner parties. Yet the band's popularity goes deeper than many might think, to the extent that just shy of 40 years on from their first album, the Canadian trio will headline the SECC in Glasgow on Thursday night.

With the band's return to Scotland, the Evening Times published the article Rush remember Glasgow where, among other topics, Geddy looks back at the first time Rush played the Apollo in Glasgow:

"I remember the first time we played the Apollo I was shocked by how ardent the fan base was, and at what good voices they had," he chuckles, ahead of bringing the band to the SECC tomorrow.

"I remember we played Closer To The Heart there, and Glasgow was the first audience that sang along with us so loudly that we could hear them over the roar of our amplifiers [later immortalised on the band's 1981 live album Exit- Stage Left].

"It was a special gig as that crowd was so enthusiastic and there's not a lot of places where the crowd was so exuberant."

Finally, The List published THIS interview with Geddy Lee where Rush's front man touches upon a number of familiar topics again including his view on the Clockwork Angels tour:

'I think this has been one of our best tours ever,' says 59-year-old Lee, as he takes the band, and a string section, overseas for their UK leg. 'It's an interesting setlist. We've tried to make it very diverse. We have brought in some songs that we've overlooked for many years, and there's the classics too, and songs from the early 70s. And of course there's a huge chunk of it dedicated to Clockwork Angels.'

Based on the expressions of each member of Rush that appear in the hundreds of photos from the British shows, it's clear that the band is continuing to savor this tour.
---