Alex Lifeson Talks to Classic Rock Magazine About Rush's Vapor Trails Remix and the Next Rush Album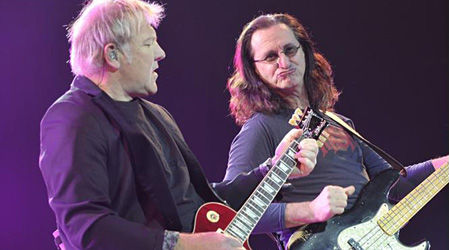 Classic Rock Magazine has just posted a new interview with Alex Lifeson on their website. The main topic of discussion in the interview is the upcoming re-release of Rush's Vapor Trails album.

From the interview:

You say that the sound of the finished album 'bothered' you and Geddy. What exactly was wrong?

The original mastering was the problem. It was poorly done. At the time we should have remastered. It bothered us forever – particularly Geddy, who had the task of remastering of the original album and feels responsible for it. It irked him for many years. The original version is hard on your ears, because the mastering was pushed so hard, there's distortion and so much compression – I found it very difficult to listen to it.

But why go back and remix it – why rewrite history?

There was so much invested in that record and it just didn't sit with us that we had this blemish on our recording history. We wanted to rectify that. I'd like to remix every record we did – maybe update some parts. But that's crazy, you know? You don't do that – records are moments in time, markers of these different periods of progression and growth. But this one was a very important record – our return after a horrible nightmare. And it deserved better.

Given the circumstances, is Vapor Trails one of the most important albums Rush have ever made?

I think it is. It deserves a very special place in our repertoire.

Alex also hints at the possibility of writing the next Rush album sometime next year...

And the next Rush album?

I don't know. But Ged's been collecting bass guitars like a madman. He's covered the walls with all these vintage basses. He's playing them, and he's not one for playing when we're not touring. So I'm wondering if maybe he and I will sit down in the new year and do something. I'm just speculating. I'm not saying there are any plans for writing or anything like that. But if he's goofing around with his basses, that's a good sign for me.

You can read the entire interview at this LINK.
---