Rush's Clockwork Angels Tour DVD Coming November 19th - Pre-Order Today!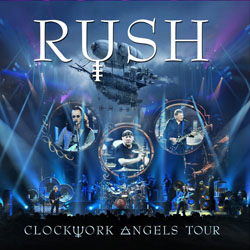 Update: (10/04/2013): A pre-order link for the 3-CD set is now available. Click HERE to order.

---

Update: According to this announcement from Roadrunner Records, there will be a CD version released on November 19th as well. Unfortunately, as of now, there aren't any pre-order links for the CD version ... yet.

---

Rush have just announced that their anxiously awaited Clockwork Angels Tour DVD will be released on November 19th in both DVD and Blu-Ray formats.

From the announcement:

Rush Clockwork Angels Tour captures the Rock & Roll Hall of Famers' 2012-2013 sold-out tour from a unique point-of-view approach to filmmaking utilizing distinct composition and a voyeuristic style that at varying moments puts the viewer on the stage, at the side of the stage, and throughout the arena. For the first time ever the legendary band (Geddy Lee, Alex Lifeson, Neil Peart) was accompanied on this tour by an eight-piece string section! This electrifying 2-DVD or single Blu-ray concert (both formats contain the same content) features over 3 hours of music including favorites Tom Sawyer and The Spirit of Radio, 3 drum solos, new string arrangements of classics such as YYZ, Dreamline and Red Sector A, and rarely performed songs such as The Body Electric and Middletown Dreams. Extensive bonus features include a full version of Limelight from soundcheck and an exclusive backstage documentary shot throughout Europe. With over 40 million albums sold worldwide and more consecutive gold and platinum awards than any other rock band following The Beatles and The Rolling Stones, Rush remains one of the most inventive, compelling, and relevant musical groups today.

You can pre-order the concert film via Amazon.Com using the following links:

---

---

Below is the track listing for the Clockwork Angels Tour DVD:

Set One:
Subdivisions
The Big Money
Force Ten
Grand Designs
The Body Electric
Territories
The Analog Kid
Bravado
Where's My Thing?/Here It Is! (drum solo)
Far Cry

Set Two:
Caravan*
Clockwork Angels*
The Anarchist*
Carnies*
The Wreckers*
Headlong Flight*/Drumbastica (drum solo)
Peke's Repose (guitar solo)/Halo Effect*
Seven Cities of Gold*
Wish Them Well*
The Garden*
Dreamline*
The Percussor (I) Binary Love Theme; (II) Steambanger's Ball (drum solo)
Red Sector A*
YYZ*
The Spirit of Radio

Encore:
Tom Sawyer
2112

Bonus:
Limelight (soundcheck recording)
Middletown Dreams
The Pass
Manhattan Project*

*With the Clockwork Angels String Ensemble

Special Features (Blu-Ray/DVD only):
Can't Stop Thinking Big (25 min tour documentary)
Behind The Scenes (featuring Jay Baruchel)
Outtakes
Interview With Dwush
Family Goy
Family Sawyer
The Watchmaker (intermission tour film)
Office Of The Watchmaker (closing tour film)

We'll have more news as it becomes available.
---
Related News Stories
[Rush's Clockwork Angels Tour Concert Film Trailer Now Online - June 8th, 2013]
[Rush Clockwork Angels Tour DVD Coming in September - February 25th, 2013]
[Rush Clockwork Angels Tour DVD Not Coming May 21st - January 16th, 2013]
[Rush Clockwork Angels Tour DVD Coming May 21st - January 11th, 2013]
---