Neil Peart News, Weather, and Sports Update - December (July) 2014 - "Bamm Bamm and the Lemon Slug"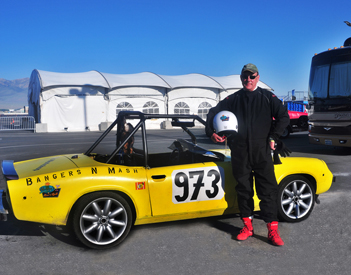 Neil Peart has just posted a new edition of his "News, Weather, and Sports" blog entry on his website. This entry, which is dated as July 2014 even though he's had several entries since that date, is titled quite interestingly Bamm Bamm and the Lemon Slug. As it turns out, Neil participated in the annual 24 Hours of LeMons "racing" event in Tooele, Utah. From his entry:

Your reporter poses with his full-face helmet and fireproof gloves, wearing his fireproof suit, socks, long underwear, and shoes (I know—red; they were out of black, see, and I thought, "Okay—I will rock those red shoes"). I am about to take my first driving shift in the "24 Hours of LeMons," in Tooele, Utah. (Pronounced "Too-ill-uh.") The endurance racing series, punning on the famous 24-hour race in Le Mans, France, was conceived around 2006 by journalist Jay Lamm. His mission was to give low-budget enthusiasts an opportunity to race—safely and humorously.

Explained in Mr. Lamm's own pithy words: "Yeah, it's real racing. That said, between the thick scrum of crapcans in front of you and our aversion to long, flat-out straightaways, you're not going to set any speed records. It's kinda like a loud, hot, noisy version of driving to work. For a really, really long time. Without actually getting anywhere. And it's a lot harder to drink coffee through the helmet. Oh, and, you know, it's more dangerous."

Later in the entry, some unsuspecting fan walked right by Neil as he was working on his car:

At some point during that marathon operation I was lying under the car trying to loosen or tighten something, and I looked up and saw a guy and his son walking through the paddock—the dad wearing a Rush T-shirt. I smiled to myself and thought, "If you only knew!"

Classic.

You can read the entire entry via this LINK.

And to check out every News, Weather, and Sports entry Neil has made dating back to 2005, they are all available at the News, Weather, and Sports Archives.
---