Clockwork Angel's Inspired "The Anarchist" Fine Art Print Now Available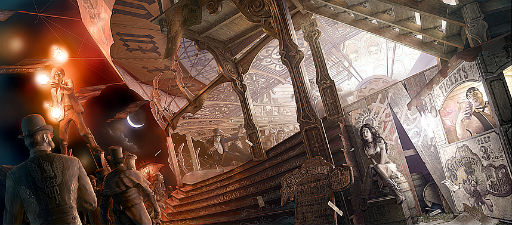 For a number of years now, Graham Whieldon, the UK based digital artist, has created some stunning Rush-inspired fine art. Last August he announced a new project; one that centered around Rush's Clockwork Angels album. Today, that vision as become a reality with the introduction of "The Anarchist"

At this end of Chronos Square thunders a nightmarish double-decker carousel that holds the fate of all within the decrepit skeletal cage of it's clattering frame, the ultimate wheel of fortune - pick a card; bet your life.

To help celebrate the release of Graham's latest artwork, he's holding a special contest geared specifically towards Rush fans. From his announcement:

Spot The RUSH References Competition
Now that The Anarchist is complete it's time for some Festive fun, and the chance to win yourself a Limited Edition Macrograph of your choice from my collection.

Within the Anarchist picture, I have painted 22 deliberate Rush references - excluding clockwork Angels - from albums to anecdotes, songs to sidelines. Some are obvious and some are tenuous, some are clear and some are well hidden. But all are Rush related in some way, and you will have to examine your print closely to find every last one of them.

The first to email me 16 correct references and where they appear in the painting will be announced on the closing day and sent a Limited Edition Macrograph print from a choice of: The Anarchist, Red Barchetta, 2112 viii, Snow Dog, and The Fountain of Lamneth.

Additional information on the contest and purchasing instructions can be found at www.macrographs.com.
---
Related News Stories
[Clockwork Angels Inspired Fine Art Print Coming Soon - August 12th, 2013]
[New Rush-inspired Fine Art from Macrographs - November 2nd, 2012]
[Rush-Inspired Fine Art - Red Barchetta - Now Available - October 24th, 2011]
---