'Tis the Season - A Great Collection of Rush-Themed Gifts Now Available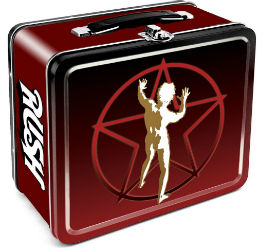 With the 2015 holiday season upon us, what better time to share the gift of Rush with a friend or loved one? Aside from the usual collection of music CD's and concert films from the band, there are a plethora of other Rush-themed gifts to choose from.

For the gambler, there are several collections of Rush playing cards to choose from including a beautiful Gift Tin which houses two separate deck of cards. Also new this year is a Rush Sectors Playing Cards set. Of course you can also choose from a single deck of cards if you prefer.

For the food afficionados, you can carry your lunch in style with the new Rush Lunchbox or drink your favorite hot beverage in a 2112 Coffee Mug.

Feel like giving someone a challenging gift? Perhaps the Rush Signals 1000 Piece Jigsaw Puzzle will fit the bill. Of course you can never go wrong with the more surreal Rush Bobblehead Dolls :-)

Of course one of the most popular items in the Rush world are t-shirts, and there are plenty to choose from including the new and incredibly popular Rush Evolution of Logo T-Shirt. Prefer to sport the official Rush logo? Then check out the Bravado Rush Starman Glow T-Shirt. For the drummer at heart, you can't go wrong with the got Peart? t-shirt.

Many more Rush-themed gifts can be viewed at the official Cygnus-X1.Net Rush Store. Ordering any of the items above, or anything from the storefront supports Cygnus-X1.Net so THANK YOU for your support!

Here's wishing you and yours a happy and Rush-filled holiday season.
---