Rush's Fly By Night May Receive a 40th Anniversary Vinyl Reissue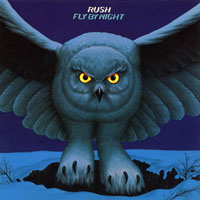 Update: MusicTap has just confirmed the re-issue of Fly By Night stating that it will also be released in the Blu-Ray Audio format. From the announcement:

With Blu-ray Audio creeping into the audiophile's world, it is now the time for those adopting bands that have rabid audiences to bring their music out in the new format to assure their fans the best format to enjoy them with.

On January 27, Mercury Records will reissue a Blu-ray Audio version of Fly By Night, their 1975 classic that introduced drummer extraordinaire, Neil Peart to an adoring fan-base.

Click HERE for more information.

Ordering links outside of the UK are still not available but expected to be announced soon.

---

Rush's sophomore release Fly By Night will be turning 40 next year, specifically on February 15th, and it now seems possible that Rush may re-issue the album on vinyl to celebrate the occasion. A new listing for the album has just appeared on the United Kingdom version of Amazon. The release date is set for January 26, 2015 however no other details have been provided.

Given Rush reissued their debut album earlier this year to celebrate its 40th anniversary, it's certainly possible that Fly By Night, which also marks the first album featuring Neil Peart, may receive a similar treatment.

We'll have more news once it becomes available which, given the January release date, should be available soon.

Thanks to Ed from RushIsABand for passing along the news.
---