New MLB Interview: On Their Game: Randy Johnson and Geddy Lee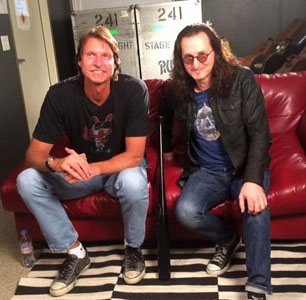 As most fans know, one of Geddy Lee's passions beyond music and wine is America's favorite past-time: Baseball. Over the years, Geddy has become friends with many notable players including MLB hall-of-fame inductee Randy Johnson. Johnson, who is an avid photographer, has been a long-time fan of Rush and has taken numerous pictures of the band over the years.

MLB.Com has just posted a lengthy interview between Geddy Lee and Randy Johnson where they discuss their mutual admiration and long-standing friendship:

Lee, chuckling, described their friendship as "a mutual appreciation society."

"One of the things I've always admired about Randy is the thoughtful and intelligent approach he always took to his game," he said. "Always looking for an edge, always looking for a way to be better at what he did on the mound. The way he talked about being accountable. You don't hear a lot of athletes talk about being accountable. I found that inspiring. I took away from that something that I could apply to my own profession."

Johnson, who works for the D-backs as a special assistant and spends most of his time in that job tutoring Minor League pitchers, said he enjoys hearing stories of when Rush was just a young and untested band waiting for the big break.

"When I was young, I was kind of a free-willed person," Johnson said. "I just kind of got the ball and went out and pitched. There was more to it than that. I enjoyed hearing [Lee's] stories about when they were coming up, and they were warming up for some of the bands that are still out there performing to this day."

You can watch the entire interview via the player below or directly at MLB.COM.

---

---

You can check out a gallery of Johnson's pictures, including shots he took at the Austin show earlier this month, HERE.

MLB.Com is also holding sponsoring a Rush Off To Chicago VIP contest where the winner will get two tickets to Rush's June 12th show in Chicago, a Meet and Greet with Rush and Randy Johnson, two tickets to a Cubs at Wrigley Field on Saturday, June 13th, hotel and airfare, and $200 spending money. For more information, click HERE.
---