Rush Featured on Cover of Classic Rock Magazine July 2015 Issue - Includes New Interview "We're Coming Towards the End"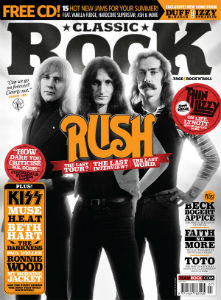 Update: Classic rock has posted additional content from the Geddy/Alex interview. Click HERE to read more.

---

Rush will once again grace the cover of an upcoming issue of Classic Rock magazine. Appearing on the July 2015 issue, the magazine includes a lengthy interview with Alex Lifeson and Geddy Lee titled "Rush: We're Coming Towards the End".

Segments of the interview are available online courtesy of TeamRock:

Could this tour be the last for Rush?
We'll see. Right now the tour is what it is. Whether we add more dates, I think it all boils down to Neil, really. It's a very athletic endeavour for him to go on tour. He's sixty-two years old. Physically it's difficult. And it's the same for me.

Your arthritis – how bad is it?
I've had it for ten years, and this is the first time I'm really feeling it in my hands and my feet. That's the way it goes. But it's a lot harder for Neil. He's got tendonitis in his arm. To be honest, I don't know how he gets through playing the way he does, being in that sort of discomfort and pain. But he's a very stoic guy. He never complains.

But there's more to it than that. Neil has said many times that his first priority is his family, his young daughter.
I don't think that's something he even needs to talk about. I don't know if sometimes he says these things because he doesn't know how to come out and say it face-to-face to us that he doesn't want to do it any more, that he's tired of it, that he feels after forty years that's a pretty good run and that he shouldn't have to feel bad about not wanting to do it any more. He wants to spend more time at home and with his family. I get it. He's never been keen about touring. It's always a difficult thing for him.

Is Neil unhappy about doing this tour?
He was resistant to it until he started prepping and realised: hey, I can still play my drums pretty good! And then getting into rehearsals with us, there's that whole camaraderie that he really adores. So when he's back into the stream, he loves the swim.

And there is still hope for a new album in the future:

You feel confident there is another album in you?
Yeah, I think there is. I'm sure if we start coming up with some stuff, Neil would be right in there. He'd love that.

You can check out the entire online version of the article at this LINK.

The article also continues to give hope that the R40 tour will extend into 2016 and reach out to Europe:

These days it's Lee who is driving Rush forward. He wants to tour more. If he gets his way, the band will return to the UK and mainland Europe in 2016. Whatever happens next, he says, will be dependent on how the other two guys are feeling after the US tour: "If everyone's really digging it, the way I think we will, then we might carry on."

Thanks to RushFanForever for the news.
---