Alex Lifeson Featured in Vintage Guitar Magazine and Total Guitar Magazine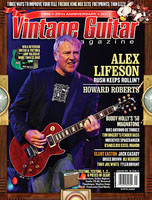 The September 2011 issue of Vintage Guitar Magazine features Alex Lifeson on the cover and includes an article with the Rush guitarist.

Alex Lifeson
Rush Keeps Rollin'
Critics have called them pretentious since the start, and not every rock listener signed on as a fan. But Rush has always focused on writing songs, playing, and performing to the best of their individual abilities. Through the group's many musical changes, Alex Lifeson has provided unique guitar work, and played mandolin, bouzouki, mandola, along with other instruments. By Elliot Stephen Cohen

More about Vintage Guitar Magazine:

Published monthly since 1986, each huge issue of VG is packed with articles to inform, entertain, and save you money, with information and histories of the instruments and the people and companies that built them, great interviews with the top players of today and yesterday and the instruments they use, the secret repair tips of the experts, pricing info, and much more! And Vintage Guitar has thousands and thousands of vintage, classic, used and new guitars, amps, accessories, books, videos and more for sale or trade from all the top dealers – you won't find more instruments in any other place!

For more information on Vintage Guitar magazine, including ordering instructions, click HERE.

In addition, Alex Lifeson also gives a tour of his concert rig in the current issue of Total Guitar Magazine:

Rush
As the prog rockers wrap up their worldwide Time Machine Tour, guitarist Alex Lifeson gives TG a personal tour of his extensive live rig.

For more information on Total Guitar magazine, click HERE.

Thanks to reader RushFanForever and Eric from Power Windows for passing along the news.