Rush Close Out the Time Machine Tour - Look Towards the Future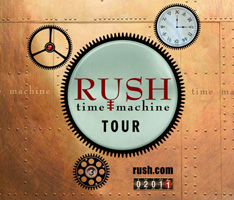 Update: Click HERE for a photo gallery from the Seattle concert.

---

Last night, Rush took the stage for the final time in 2011, drawing a close to the two-year long Time Machine tour at the scenic Gorge Amphitheater outside of Seattle, Washington. Throughout the two-year tour, Rush played 83 shows across North and South America as well as Europe.

And though the tour may now be just a memory, it shouldn't be long before we can relive it with the Time Machine DVD; a concert filmed on April 15th in Cleveland. The DVD is expected to be released on September 27th.

For more memories of the tour, you can check out the Time Machine Tour Gallery featuring well over 1,000 pictures from over 30 venues.

With the tour now over, and after a well-deserved break, Rush will turn its attention to (finally) completing Clockwork Angels; their long-anticipated 20th studio album. Geddy has recently been quoted in saying that he "hopes" to have the album finished before Christmas (presumably Christmas 2011) :) with a world-tour supporting the album next year.

Time will tell.

One this is certain, the Rush Caravan will certainly thunder onward.
---
Related News Stories
[
Rush Prepare to Take on Vegas / RushCon:X1 Begins - June 24th, 2011
]
[
Rush Begin the Final Leg of the 2011 Time Machine Tour Tonight in South Carolina - June 8th, 2011
]
[
Rush Resume their Time Machine Tour in Europe -- First Stop: Helsinki, Finland - May 4th, 2011
]
[
Geddy Lee Speaks to the Irish Times - April 28th, 2011
]
[
Rush End the First Leg of the 2011 Time Machine Tour - Head Over to Europe for the Next Leg - April 23rd, 2011
]
[
Rush Rock Cleveland / New Concert DVD Information - April 16th, 2011
]
[
Exclusive Video: Rush Rock Madison Square Garden - April 12th, 2011
]
[
Rush at Hershey Park: How Sweet it Is - April 9th, 2011
]
[
Rush 2011 Time Machine Tour Begins Tonight - March 30th, 2011
]
---