Rush's 2112 Makes the Guinness Book of World Records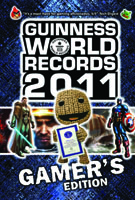 The 2011 Guiness Book of World Records - Gamer's Edition includes a category for the Longest Song Featured In A Rhythm Game where the band's epic 2112 is identified as the current record-holder:

Holder: "2112" (Rush, 1976) The prize for the longest commercially released song to be featured in a rhythm game goes to veteran Canadian rockers Rush, whose 20-min 23-sec 1976 track "2112" features as the final number in Guitar Hero: Warriors of Rock (Activision, 2010).

Click HERE to order your own copy of the Guinness Book.

Thanks to Eric from Power Windows for the news.