Geddy Lee Reflects on Massey Hall as $136-million Renovation Gets Underway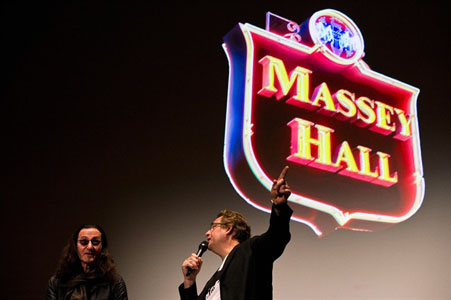 Though Rush has only performed their a total of six times over their decades spanning career, Massey Hall in Toronto remains one of the band's most cherished venues. It was in this historic venue where Rush performed a consecutive three-night stand back in June of 1976 that was recorded and later released as their first live album All The World's a Stage.

Now, as the venue which was built back in 1894 prepares to undergo an extensive seven-year, $135-million revitalization, Geddy Lee takes time to reflect back on the meaning of the venue to Rush and Toronto.

From an article that was published today by CTV News Toronto:

Rush frontman Geddy Lee's memory of attending his first show at Toronto's Massey Hall remains spring-water clear -- and what stands out is the sound quality that was swamp-water muddled.

It was June 5, 1968, and a then 22-year-old Lee was desperate to see British rock royalty Cream, even though his friends weren't.

"I couldn't get anyone to go see Cream with me," Lee told The Canadian Press in one of Massey's spartan dressing rooms Monday.

"I said: 'Screw you all, I'm going by myself.' I sat in the balcony. And I don't think their PA system had arrived because they played onstage and Jack Bruce was singing through the Massey Hall crappy little announcement system.

"It was really strange," he added, laughing.

Such whimsical glitches may become less common as the venerable Massey Hall -- a piece of Toronto iconography since it was built back in 1894 -- undergoes a seven-year, $135-million revitalization.

"Phase one" of that operation began this week, with improvements including a first-ever loading dock, a modernized back of house, a backstage space for artists, and technical tweaks.

Click HERE to read the entire article/interview with Geddy Lee.

Thanks to Eric from Power Windows for the news.
---