RushCon 15 Details Announced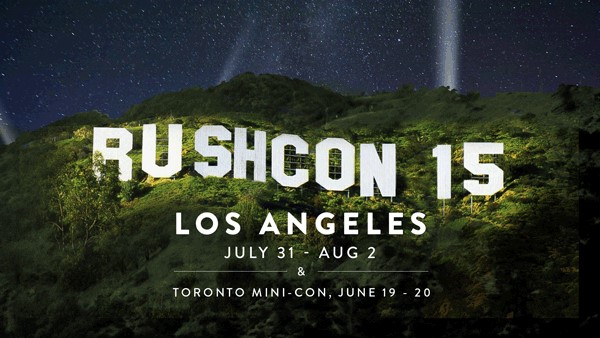 The organizers of the the North American Rush Convention, dubbed RushCon, have just announced the details for RushCon 15:

To celebrate the 40th anniversary of Rush, and in conjunction with the 34-city R40 LIVE Tour, RushCon is excited to announce RushCon 15 will be held twice, in two locations, a Mini-Con in Toronto, and for the first-time ever in Los Angeles.

We are so grateful for the fans who have made the trip up to the Great White North every year. But this year, we wanted to add something different. We want RushCon to be accessible to everyone. If this is Rush's last big tour, we want it to go out with a bang and to celebrate big. So we are having two conventions this summer.

Where better to celebrate the amazing legacy of our favorite band, than with your friends at RushCon?

TORONTO MINI-CON, JUNE 19 - 20
Can't make it to LA? Fear not, for we couldn't leave out the hometown show! We will be having a "mini-RushCon" June 19 - 20 in Toronto to cheer the boys on. In addition to a pre-party before the Friday show at the Air Canada Centre, other events will be announced in the coming weeks.

LOS ANGELES, JULY 31 - AUGUST 2
Join us for three days of Rush-related events, including transportation to and from the concert at the Forum on Saturday, August 1.

For complete details, please visit the RushCon website.
---