Kevin J. Anderson Releases Chapter One Teaser Sample of 'Clockwork Lives' Novel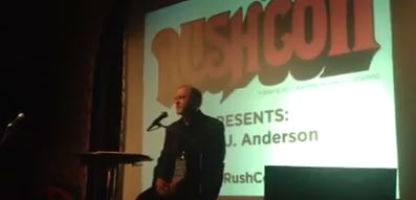 The official press release for the September release of Clockwork Lives, the follow-up to the novelization of Rush's Clockwork Angels 2012 album, was released yesterday by ECW Press yesterday. In additional to the press release, author Kevin J. Anderson also released a teaser sample of Chapter 1 of the novel on his blog:

As a blue alchemical glow illuminated the rails, the steamliner came into Lugtown on its weekly run from parts unknown toward Crown City, the heart of the land of Albion. The chain of cargo cars and passenger gondolas were suspended by multicolored balloon sacks, each marked with the iconic honeybee symbol of the loving Watchmaker.

The steamliner touched down, steel wheels striking the rails outside of town and decelerating with gouts of blue-tinted steam and showers of sparks. As the steam vents hissed, lowering pressure inside the coldfire boiler chambers, the pilot damped his engines and let the steamliner simmer in place. He would park at Lugtown for the better part of a day to refill water tanks and take on cargo.

Restless passengers disembarked, men wearing frock coats and top hats or bowlers. The women wore voluminous dresses, gloves, button-up black boots; some even carried parasols as they accompanied their gentlemen. They chose such finery for the journey because they wanted to be presentable just in case the Watchmaker, or at least some of his Regulators, caught a glimpse of them when they disembarked at the Mainspring Hub.

Clockwork Lives is now scheduled for release on September 15th, 2015 and can pre-ordered via Amazon. Cover art for the novel has yet to be released but we are told that it should be available "soon".
---
Related News Stories
[Clockwork Lives Novel by Kevin J. Anderson and Neil Peart Now Available for Pre-Order - January 21st, 2015]
[Rush Announce R40 Live 40th Anniversary Tour - Band to Perform in 34 Cities Across North America - January 22nd, 2015]
[Kevin J. Anderson Announces Two New Writing Projects: "2113" and "Clockwork Lives" - August 25th, 2014]
---