Neil Peart News, Weather, and Sports Update - February 2015 - The Adventures of Bamm Bamm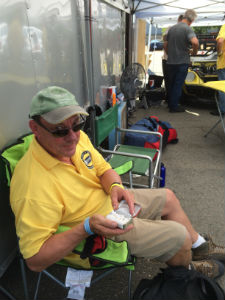 Neil Peart has just posted the latest edition of his "News, Weather, and Sports" blog entry on his website. This entry is the continuation of his last entry from December 2014 where he talked about his experience of competing in the "24 Hours of LeMons", an endurance racing series for budget-minded enthusiasts that took place in Tooele, Utah.

From his entry:

The Bangers 'n' Mash racing team's first attempt at the 24 Hours of LeMons, in June 2014, had been . . . oxymoronic. A triumphant disaster. A victorious failure. A shining disappointment. A tarnished joy.

Still, ever hopeful, we signed up for a race in September, at Thunderhill Raceway in Northern California. This time we were hoping for better. Maybe just the good part—the triumph, victory, and shining joy. Maybe just keep the car running and finish the race.

But alas, the summer of 2014 swept chief enabler and Lemon-Slug preparer Inspector Clouseau into a whirlwind of pressure and worry. As mentioned in "Bamm Bamm and the Lemon Slug," Clouseau's teammates lived far away from his home garage in the Santa Cruz Mountains. Except for an occasional appearance by Wrong Way, a deputy district attorney from across the Bay, we were not available to help with the car.


You can read the entire entry via this LINK.

And to check out every News, Weather, and Sports entry Neil has made dating back to 2005, they are all available at the News, Weather, and Sports Archives.
---