Rush: A Brief History of Time - Part 12 Now Online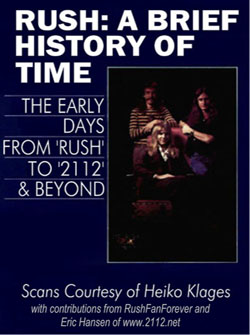 The twelfth installment of the ongoing series Rush: A Brief History of Time, an ever-increasing archive of articles, interviews, reviews, and advertisements about Rush that span every decade from the 70's onward, and collected from the world over, is now online.

In this twelfth installment, over 200 new articles and advertisements have been added; 29 from the 1970's, 159 from the 1980's, 3 from the 1990's, 1 from the 2000's and 11 from the current 2010 decade. The majority of the articles in the 1980's fall into the three-year period of 1987 - 1989 where the emphasis of the collection focuses on the releases of Hold Your Fire, A Show of Hands and Presto.

There are also some great, early articles and reviews from the 1970's that focus on 2112 and A Farewell to Kings and, as a special treat, also included is a 1970 review of Neil Peart's then-band J.R. Flood.

Once again, I'd like to thank Heiko Klages of Germany who contributed the bulk of the articles for this installment. Special thanks also go out to Joe Pesch, Eric Hansen from Power Windows and Brian Siddall whom also contributed articles this time around.

To read the entire installment, click HERE.

To check out all twelve installments of Rush: A Brief History of Time, including a chronological listing of all the articles, click HERE.
---