Yet Another Rush-Themed Mural Appears on FX's Archer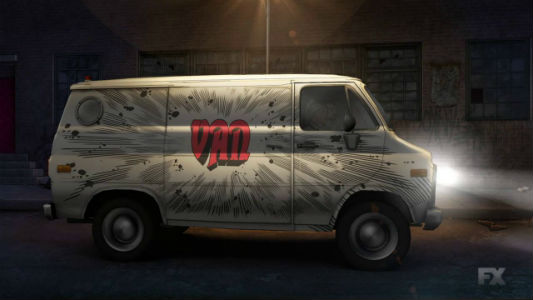 FX's long-running animated series Archer has had a history of Rush sightings throughout its run. Most have taken place in the form of a Rush album-themed mural appearing on the side of Krieger's van (one of the main characters in the show).

On the episode titled "The Kanes" (season 6, episode 8), which aired last week, Krieger's van received the debut album treatment with "Rush" replaced simply by the word "Van".

This marks the fifth such van mural that has appeared on the show, dating all the way back to 2011. The four previous van motifs included:

"Double Trouble" (season 2, episode 13, aired April 21, 2011): "Exit...Van Left"
"The Man From Jupiter" (season 3, episode 1, aired January 19, 2012): "Krieger Vanispheres"
"Space Race: Part 2" (season 3, episode 10, aired March 22, 2012): "Caress of Krieger"
"The Wind Cries Mary" (season 4, episode 2, aired January 25, 2013): "Van By Night"

Click this LINK or the image to the right for a motif including all five vans.

Thanks to everyone who informed me about this latest sighting.
---
Related News Stories
[Rush References on FX's Archer - April 22nd, 2011]
[Rush References on FX's Archer - Season 2 Finale - January 20th, 2012]
[Rush Reference on Third Season Finale of FX's Archer - January 23rd, 2012]
[Rush Reference on FX's Archer - 'Van By Night' - January 27th, 2013]

---