Drumbeats by Neil Peart and Kevin J. Anderson Available in New Book Bundle Offer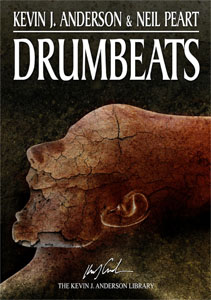 As most fans know, author Kevin J. Anderson, along with Neil Peart, penned the novelization of Clockwork Angels back in 2012. What some fans may not know is that this was not the first collaboration between Anderson and Peart. Back in 1994, the two worked on Drumbeats, a chilling short story about a rock drummer bicycling through the African wilderness who encounters a village that makes very special drums.

Drumbeats is now being offered in a special "Pay What You Want" book bundle from Anderson's own publishing company WordFire Press.

From the announcement:

This book bundle is on FIRE! WordFire, that is. Kevin J. Anderson's publishing company is bringing the sci-fi with some help from a talented roster of best-selling authors. Name your price for The Dark Lady: A Romance of the Far Future, The Golden Queen, The Ferryman & the Flame 1: Surrender, Lifeline, Ocean , and Second Paradigm. If you pay more than the average price, you'll also get Assemblers of Infinity, Working Stiff: The Cases of Dan Shamble, Zombie PI, Five By Five 3: Target Zone, Mythworld: The Festival of Bones, Mythology 101, The Godmakers, ViraVax, and Whack Job. If you pay $15 or more, you'll receive all of the above plus Beasts of Tabat, Drumbeats, and Veiled Alliances: A Prequel Novella to the Epic Space Opera The Saga of Seven Suns. Get 'em while they're hot!

Pay what you want. The contents of this bundle would cost you up to $88 if purchased separately, but here at Humble Bundle, you pay what you want.

Read them in any galaxy. These books are available in PDF, ePUB, and MOBI formats, meaning you can read them anywhere at anytime. Instructions and a list of recommended reading programs can be found here.

Support charity. You choose where your money goes -- between the WordFire creators and two charitable causes (Challenger Center for Space Science Education and the Science Fiction & Fantasy Writers of America Emergency Medical and Legal Fund) via the PayPal Giving Fund. For details on how this works, click here. If you're a fan of this bundle and want to support the Humble team, a Humble Tip will help ensure there are more bundles to come!

This special bundle offer is only available for the next six days. For more information and for ordering instructions, please click HERE.

Thanks to Kevin J. Anderson for passing along the news.
---