Win a Meet & Greet with Members of Rush!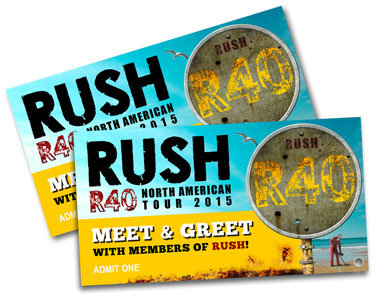 The Rush Backstage Club has just announced a new contest where they are giving away a Meet & Greet opportunity with "Members of Rush" for each of the thirty-five concert shows during the R40 tour. From the announcement:

The contest you have all been waiting for is here: Win a Meet and Greet with members of RUSH! We will draw one lucky winner for every city on the upcoming RUSH R40 Tour to win a pair of meet and greet passes to meet members of RUSH.

IMPORTANT: You must have tickets to the concert in the city you are entering to win in to be eligible to win the meet and greet passes. Tickets to the concert are not included with the meet and greet passes prize.

Also included is a very important note about the entry form:

NOTE: When filling out the contest form, please fill in the "City" field with the city where you have tickets for a RUSH R40 tour concert. Do not enter the city where you are from unless RUSH is playing a concert in that city and you have tickets to that concert. If you are going to see RUSH on this tour in several cities, you may enter ONCE for each show you are attending. Please complete a separate ballot for every city you wish to enter for.

To enter for your change to win a Meet & Greet, click HERE.
---
Related News Stories
[Attention Rush Fans! Rush Wants Your Photos for Their R40 Live Tour - March 14th, 2015]
["Rush Currently Rehearsing in Los Angeles Ahead of R40 Tour - April 5th, 2015]
["Get Everyone to R40" Online Funding Event Now Underway - March 10th, 2015]
[Neil Peart Discusses the R40 Drum Kit in a New Video - January 27th, 2015]
[Alex Lifeson Stops By Q107 To Talk About The New R40 Tour - Cleveland Stop Still Possible - January 26th, 2015]
[Rush Announce R40 Live 40th Anniversary Tour - Band to Perform in 34 Cities Across North America - January 22nd, 2015]
[Rush 2015 Tour Rumors Begin To Gain Steam - December 30th, 2014]
---