December Issue of Drum! Magazine Includes a New Article by Neil Peart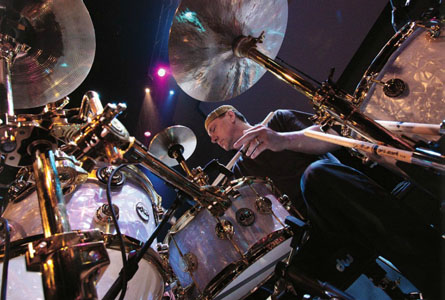 The December 2015 issue of Drum! Magazine includes a new article that was penned by Neil Peart.

Titled Magnetic Memories: Four Decades in the Studio with Rush, the article focuses on Neil's memories of recording with Rush over the decades. Additionally, he looks further back to his days with J.R. Flood:

J.R. Flood was a serious band, my first "full-time pro" outfit, with Paul Dickinson on guitar, Wally Tomczuk on bass, Bob Morrison on Hammond, and Gary Luciani singing. They were a good bunch of guys, disciplined and dedicated - and funny. (I've been lucky that way.) We practiced hard every weekday in the Dickinson family basement. (Paul's mother has surely been sainted.) Weekends we played at high schools and small halls around Southern Ontario. What had been called "dances" in the early '60s were firmly "concerts" by 1970, when pretty well everyone in the audience sat down on the gym floor or stood around the walls to listen and watch. That was a nice level of attention for a young musician to feel.

The seven-page feature can be read in its entirety at this LINK.

Thanks to RushFanForever for the news.
---