Geddy Lee and Alex Lifeson Hit the Interview Trail Ahead of the Release of R40 Live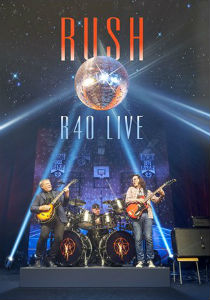 With the pending release of Rush's latest live offering, R40 Live, both Geddy Lee and Alex Lifeson have been busy providing interviews and making appearances ahead of the November 20th release. Below is a breakdown of all the recent events:


10 Things We Learned From Rush's Michael Moore Interview
As we reported earlier, Geddy Lee and Alex Lifeson were at the New York City headquarters of Sirius XM on Friday, November 13th for an intimate 'Town Hall' meeting with moderator Michael Moore. Excerpts from that interview are available in the Rolling Stone article including this response:

6. Rush's view of today's music biz is pretty grim.
Both Lee and Lifeson painted a rosy picture of the music industry that they came up in, an environment in which band and label worked together as a team, and artists had the time and space to develop their sound and find their audience. ("What was great about our era," said Lee, "was there was patience on the side of the record companies.") And both shared equally cynical perspectives on the conditions bands face today. Lifeson put it best: "Now, what's left of record companies are more speculators."

Rush's Alex Lifeson Says There's Life After R40 Tour: 'I Don't Think It Is the End'
Billboard Magazine recently caught up with Alex Lifeson for a lengthy interview where, among other topics, the future of the band (or lack thereof) was discussed:

"That question was posed many times: Is this is? Is this the end?" Lifeson tells Billboard. "I don't think it is the end, and we never really said this is definitively our last tour. I think it's likely to be our last major tour, but we're still in contact, very close contact with each other, all three of us, and I don't think it's certainly the end of the band. There are still lots of things we want to do. It's not to say that we wouldn't do something in the future on a smaller scale, and there's always the fun project of making a record, which we've all loved forever. Right now I think we're just kind of relaxing and taking it in and getting reconnected with our families and friends and more of a domestic life, and then we'll kinda sort of review it, I think, in the new year and see what we want to do."

Watch Rush's Geddy Lee, Alex Lifeson Talk 'R40 Live,' Band's Future
And speaking of the band's future, Rolling Stone posted a video of Geddy Lee and Alex Lifeson responding to fan questions including one about Rush's future:

Of most interest to Rush fans will be their take on the future of the group as a live act, which right now seems to be firmly in Peart's hands. "Are we going to tour again?" asked Geddy Lee. "That's the question that I'd like to know myself."

That said, they're not closing the door on recording new music together. "We don't have any immediate plans for that," says Lee. "Right now we're on holiday. I hope once the new year rolls around and the juices get flowing and we get hungry again we can talk about that." Does that mean the band is definitely not done? "Not in my mind," said Lee. "But I can't speak for everyone."

Click HERE to view the entire video.


Geddy and Alex on the Jim Kerr Rock & Roll Morning Show on New York's Q104.3
Earlier this week, Geddy Lee and Alex Lifeson stopped by New York City's Q104.3 studios for a video interview with Jim Kerr. You can watch the entire video via the embedded viewer below:

---

---



The Prog Interview: ALEX LIFESON
PROG Magazine also caught up with Alex Lifeson for an interview that will appear in their December 2015 issue. The entire interview is online and it, too, discusses the future of Rush and how the R40 tour may have been the last:

Earlier in the tour you told Rolling Stone: "I don't think that we're having much difficulty thinking of it as possibly the last [tour]." Do you still feel that way?

I don't know if I do still feel that way now. I thought the tour was great. I thought we played really well, the turnout was fantastic, I thought the set was great, the songs we chose were right. There was so much about it that was so positive and I think going into it there was the thought that this is the last one, a nice way to go out on top. But once we were in the middle of it or even towards the end of it, it seemed like it was just too short.

Haven't ordered your copy of R40 Live yet? You can do so via the links below:




We'll have more information including artwork, liner notes, and more on R40 in the coming days.
---
Related News Stories
[Sirius XM's Town Hall Meeting with Rush - A Look Back - November 17th, 2015]
[Rush R40 Live to Premiere on Sirius XM / Geddy Lee and Alex Lifeson in Sirium XM Studios for a Town Hall Event - November 9th, 2015]
[Rush's R40 Live to be Screened in London - October 23rd, 2015]
[Rush's R40 Live Album Artwork, Tracking Listing, And More Revealed - October 8th, 2015]
[Rush's R40 Live Album and Concert Film Coming November 20th. First Single Released Next Week - September 18th, 2015]

---