Rush Featured on the Cover of Canadian Musician Magazine's November/December 2015 Issue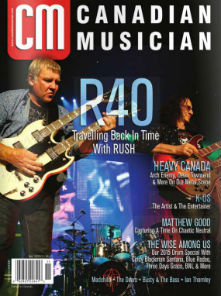 Rush have appeared on the cover of Canadian Musician Magazine over a dozen times in the past, with the last such honor coming back in 2007 (See: In the Studio with Rush). That eight-year drought has ended as the band will grace the cover of the magazine's November/December 2015 issue. The accompanying article, titled Travelling Back In Time With Rush has Geddy Lee and Alex Lifeson reflecting on the "...concept, design, and music of R40..."

From the article:

I'm very proud of the way it sounds and looks," Lifeson says of the band's 11th live package. "All in all. it's a very satisfying way to cap [R40]. It's not like we're leaving anything unturned."

Lee takes over: "This whole tour was really driven by the fans," he says, reflecting on R40. "The design of the show, the song list, and a lot of the [video] content on the rear screen was all us saying thank you to our fans, because that's really the nature of an anniversary, in my view - especially due to the circumstances that this was our last tour, or potentially our last tour, so we really needed to say thank you the proper way."

You can read the entire article via this LINK.

Thanks to RushFanForever for passing along the news and to Eric Hansen for the transcription.
---