Rush's R40 Live Album and Concert Film Released Today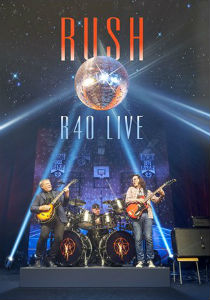 At long last, Rush's latest live album and concert film offering, R40 Live, is now available. Produced in several formats and packages, R40 Live is the band's eleventh official live album, when you include the limited release of Grace Under Pressure Live: Tour 1984:

All roads have led to this. Forty-one years in the making, the R40 Live tour took a very real journey back through time. Beginning with the grand design: a state-of-the-art stage set that pivots, rolls and dives, and brings Clockwork Angels in to bombastic, colorful life before marching stridently back in time (through theatre stages, a panoply of band and fan shots, the accrued memories of a life spent playing live) to a mocked-up school gym and the band playing there; a solitary bass amp set on the chair behind Geddy Lee, a mirror ball spiraling crazily above, casting thin rods of light like a light rain across the crowd, 'Working Man' coming to a shuddering halt as the band s beginning becomes their end.

Rush recorded and filmed R40 LIVE over two sold-out shows in the band's hometown of Toronto on June 17 & 19, 2015 in the middle of what was rumored to be their last grand-scale tour. The set list includes classics 'Tom Sawyer,' 'The Spirit of Radio' and '2112' as well as rarities 'Xanadu,' 'Jacob's Ladder' and 'Lakeside Park,' not to mention, for the first time ever live, 'Losing It.' R40 LIVE is the ultimate career-spanning live retrospective of Geddy Lee, Alex Lifeson and Neil Peart; a celebration of 40+ years of epic rock. Captured with 14 cameras in full HD quality, the concert is presented in feature film style with true Dolby stereo, 5.1 surround sound, and DTS HD surround sound. Package includes one Blu-ray and three compact discs.

Liner notes, track listings, scans of the artwork and packaging, and more will be available on the main site within the next day or two. Stay tuned for more information on those updates.

---

---

To order your copy of R40 Live, use any of the links below:




Already own R40 Live? Share your comments, reviews, and opinions below. And stay tuned for exciting news in the coming days about a special holiday R40 Give-away.
---
Related News Stories
[Geddy Lee and Alex Lifeson Hit the Interview Trail Ahead of the Release of R40 Live - November 19th, 2015]
[Sirius XM's Town Hall Meeting with Rush - A Look Back - November 17th, 2015]
[Rush R40 Live to Premiere on Sirius XM / Geddy Lee and Alex Lifeson in Sirium XM Studios for a Town Hall Event - November 9th, 2015]
[Rush's R40 Live to be Screened in London - October 23rd, 2015]
[Rush's R40 Live Album Artwork, Tracking Listing, And More Revealed - October 8th, 2015]
[Rush's R40 Live Album and Concert Film Coming November 20th. First Single Released Next Week - September 18th, 2015]

---