Neil Peart Featured in the January 2016 Issue of Modern Drummer Magazine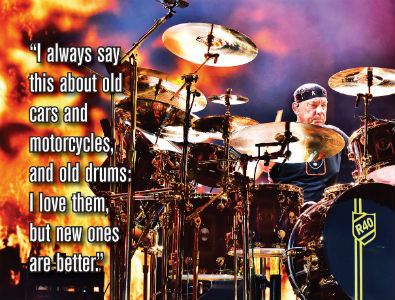 No other drummer has adorned the cover of Modern Drummer magazine more than Neil Peart. The January 2016 issue will mark the 9th time the Rush drummer has appeared front-and-center on the magazine (the first time was back in April of 1980.

The accompanying article/interview, titled simply Neil Peart, discusses "...soloing and set lists, the very real differences between his drumming past and present, and the much-speculated topic of his band's future..."

Here's an excerpt from the article:

MD: In your last MD interview, in 2011, you said that studies with Gruber and Erskine helped you retain accuracy but feel good inside. Has anything changed? Is that even better now?

Neil: I'm still evolving in the ways that they have guided me. Sometimes I'll do an interview with non-musicians and they'll ask why I practice so much and take lessons. Well, I have the privilege of being a professional musician. It's my responsibility to devote myself to being all that I can be to the people that have given me that opportunity.

MD: Not everyone thinks that way.

Neil: I know, but they should. [laughs] I live by example. As a drummer, set a good example and don't work the audience. And when other drummers tell me I've inspired them to play drums, I tell them to apologize to their parents. [laughs] Like for this tour, I started preparation three months earlier. I'd play along with tracks all day and work on solo ideas, five days a week. So by the time we get to band rehearsals, I'm ready.

You can read the entire article via this LINK.

Thanks to Ed from RushIsABand for passing along the news.
---