Rush's R40 Live - Album Liner Notes, Tracking Listing, Artwork, and More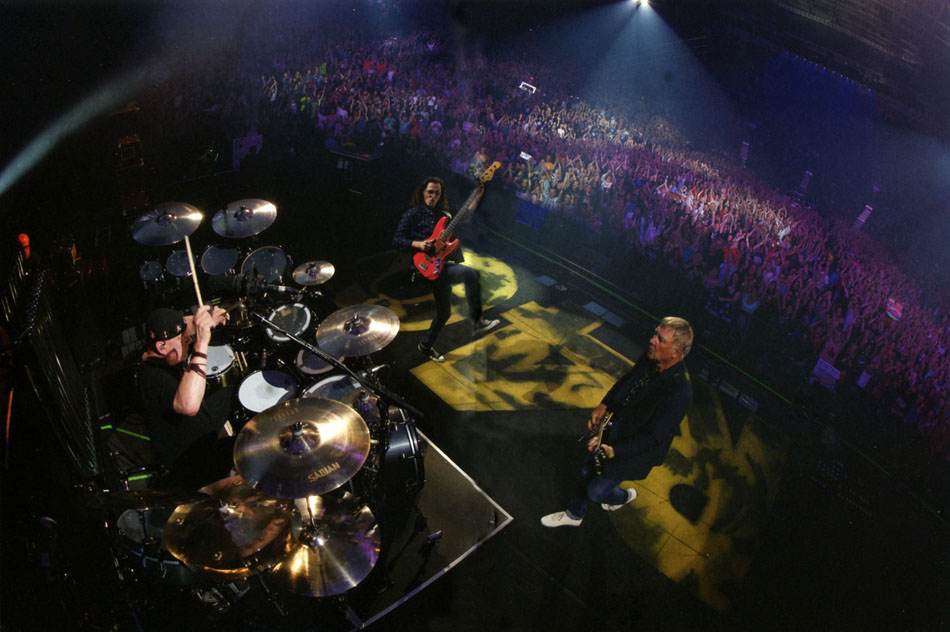 With the release of Rush's R40 Live Album and Concert Film, I have created new pages on the main site that include all of the liner notes, tracking listing, article links, artwork, photographs, and more.

As most fans know, at least those who have purchased one of the incarnations of R40 Live, the liner notes include a brief essay by long-time Rush scribe Philip Wilding. His most recent article on Rush, titled Exit Stage Left?: Inside Rush's Farewell Show appeared in the October 2015 issue of Classic Rock magazine.

Below is a brief passage from the R40 Liner Notes essay:

The two hometown shows at Toronto's Air Canada Centre this summer were always going to have an added poignancy given the giant question mark over the band's future - Neil's resistance to play live, Alex's physical travails - plus, this was the town where Rush rehearsed in their rooms and garages, were the scourge of high school dances, brought the bar scene thrumming into bluesy life, it's where "Subdivisions" was played out and the song born.

Any doubts were offset by a sell-out 35-date tour which drew people from as far afield as Australia, Japan, China, South America and London (not the one in Ontario, though they were in attendance too) and only amplified the Canadians' legend. People came dressed as the band (the 2112 era proving particularly popular even down to Neil's moustache), eleven-year-olds thrilled to hear songs that were recorded and released when their fathers were still teenage boys and were now too trying to keep time with Neil's rattling fills.

Use the links below to access any of the new pages created for R40 Live:




To order your copy of R40 Live, use any of the links below:




For more information on all of Rush's albums, click HERE.
---
Related News Stories
[Rush's R40 Live Album and Concert Film Released Today - November 20th, 2015]
[Geddy Lee and Alex Lifeson Hit the Interview Trail Ahead of the Release of R40 Live - November 19th, 2015]
[Sirius XM's Town Hall Meeting with Rush - A Look Back - November 17th, 2015]
[Rush R40 Live to Premiere on Sirius XM / Geddy Lee and Alex Lifeson in Sirium XM Studios for a Town Hall Event - November 9th, 2015]
[Rush's R40 Live to be Screened in London - October 23rd, 2015]
[Rush's R40 Live Album Artwork, Tracking Listing, And More Revealed - October 8th, 2015]
[Rush's R40 Live Album and Concert Film Coming November 20th. First Single Released Next Week - September 18th, 2015]

---