Neil Peart Talks Retirement in a new Drumhead Magazine Interview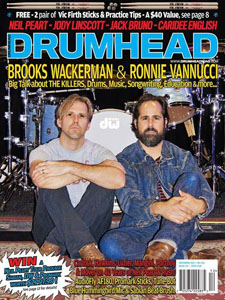 Update (12/08/2015): Donna Halper has just commented on the rumor of Neil Peart's retirement:

"I love a good rumor as much as anyone, but here's what I know regarding Neil and his retirement. He does not want to tour any more, for a number of reasons (health, wanting to be with his family). So yes, in that sense, he has retired. But he is open to getting together with Alex & Geddy at some future point to create some new music. Nothing has been decided about where or when. That's the only news I can share at this point in time. If I have more, I'll be happy to let everyone know."

Thank you, Donna :-)

---

Update (12/07/2015): The complete article is now online and can be read at this LINK.

---

The December 2015 issue of Drumhead Magazine includes an interview with Neil Peart where the Rush drummer "reflects on 50 years of hitting things with sticks."

In a couple of passages, Peart also touches upon the fact that he now considers himself retired:

"Lately Olivia has been introducing me to new friends at school as "My dad--He's a retired drummer." True to say--funny to hear.

"And it does not pain me to realize that, like all athletes, there comes a time to... take yourself out of the game. I would rather set it aside than face the predicament described in our song "losing it" ("Sadder still to watch it die, than never to have known it")"

Sigh.

The magazine is also holding a "Neil Peart Tour Package Contest" where one lucky winner will receive six pairs of drum sticks, a "Time Machine" snare, and 2 Paragon cymbals.

We'll have the complete transcription of this article as well as additional details of the contest available in the coming days.

Many thanks to Joe Pesch for sharing the news.
---