Rush's R40 Live Enters the Billboard 200 Charts at the #24 Spot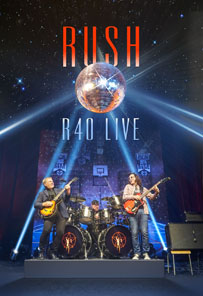 Billboard has just released their latest charting information for the week and Rush's live offering, R40 Live has entered the Top 200 charts at the #24 spot. That's the best initial charting for a live Rush album since the 2008 release of Snakes & Arrows Live. The last two live albums, Clockwork Angels Tour and Time Machine: 2011 Live in Cleveland entered the Billboard 200 at positions 33 and 54 respectively.

R40 Live also entered the Billboard Music Video charts in the #3 spot. Additional charting for R40 Live includes:



Billboard Canadian Albums: #30

Hard Rock Albums: #1

Top Rock Albums: #1

Tastemakers: #2

Top Album Sales: #14

Internet Albums: #4

Top Current Albums: #12

Click HERE for all the charting information.

For more information on the R40 release, please use any of the links below:




To order your copy of R40 Live, use any of the links below:




For more information on all of Rush's albums, click HERE.
---
Related News Stories
[Rush's R40 Live - Album Liner Notes, Tracking Listing, Artwork, and More - November 21st, 2015]
[Rush's R40 Live Album and Concert Film Released Today - November 20th, 2015]
[Geddy Lee and Alex Lifeson Hit the Interview Trail Ahead of the Release of R40 Live - November 19th, 2015]
[Sirius XM's Town Hall Meeting with Rush - A Look Back - November 17th, 2015]
[Rush R40 Live to Premiere on Sirius XM / Geddy Lee and Alex Lifeson in Sirium XM Studios for a Town Hall Event - November 9th, 2015]
[Rush's R40 Live to be Screened in London - October 23rd, 2015]
[Rush's R40 Live Album Artwork, Tracking Listing, And More Revealed - October 8th, 2015]
[Rush's R40 Live Album and Concert Film Coming November 20th. First Single Released Next Week - September 18th, 2015]

---