Neil Peart Talks About Phil Collins / Close-up Look at the Time Machine Tour Kit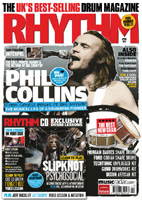 The April 2011 edition of the UK drumming magazine Rhythm features an in-depth look at former Genesis frontman Phil Collins. Within the 11-page spread, Neil Peart, among others, chime in on why they hold Phil in such high regards.

From Genesis genius to soul survivor, we track the career of the drum world's first superstar drummer ? Phil Collins. Right back to Genesis through to last year's Number One album Going Back, it's all here in our huge 11-page cover feature. We also talk to Phil's percussive partner in crime Chester Thompson and ask drum behemoths Neil Peart, Mike Portnoy and Brann Dailor just why they hold Collins so close to their hearts.

Ordering information for the April issue can be found here.

Additionally, the the Rhythm Magazine website is now featuring an up-close photo segment on Neil's Time Machine Tour Drum Kit. The nine-image spread shows some of the intracacies behind this amazing kit. You can check out the photos via this LINK.

Thanks to Ed from RushIsABand for sharing the news.