Rush: Beyond the Lighted Stage Wins Juno Award for Best Music DVD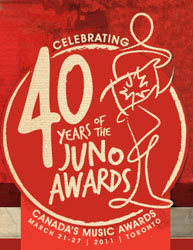 The 2011 Juno Gala and Awards Ceremony was held in Toronto last night where Juno Awards in 32 of the 40 categories were awarded. Among the categories announced was the Best Music DVD where Rush's acclaimed documentary Rush: Beyond the Lighted Stage took home the award. Click here for a list of other winners during the night.

The remaining eight categories and awards will be presented tonight during the 2011 Juno Awards Ceremony which will be broadcast on CTV live from the Air Canada Centre starting at 8PM EST. Both Geddy Lee and Alex Lifeson are scheduled to be presenters and this Juno win will certainly lighted the mood for the guys.

Congratulations go out to Scot McFadyen, Sam Dunn, Pegi Cecconi, Noah Segal, Shelley Nott, John Virant and, of course, RUSH for bringing home the Juno. This marks the first Juno Rush has won since taking home the same award back in 2004 for Rush in Rio.

Read more about Rush's win via this LINK.