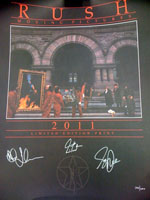 Ultimate Classic Rock and Universal Music Enterprises are currently sponsoring a contest where one lucky winner will receive a Rush 'Moving Pictures' Lithograph. The contest is being held in connection with the upcoming release of Rush's Sectors box set.

The lithograph features the classic 'Moving Pictures' album cover autographed by Geddy Lee, Alex Lifeson and Neil Peart. Click HERE for a larger image of the lithograph.

To enter the contest, click HERE.