Clockwork Angels Novel Preview Booklet Now Available for Download - New Artwork Revealed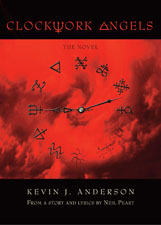 Kevin J. Anderson, the author of the upcoming novelization of Clockwork Angels, has just made the first three chapters of the novel available as a free PDF download. From Kevin's blog entry:

"I've received many envelopes and requests for the special preview booklet of CLOCKWORK ANGELS: The Novel. With ECW Press and the Rush Store, we've decided to make the pdf available for download as well. The preview includes introductions by Neil Peart and me, the first three chapters in the novel, lyrics to "Caravan," and some of the artwork. You can download the pdf by clicking the link."

In addition, Kevin also posted a couple of pictures from the completed hard-cover novel; one of which reflects new artwork from Hugh Syme. Check it out HERE.

To pre-order your own copy of the novel, please click HERE.

Thanks to Eric from Power Windows for the heads up on the free PDF download.
---
Related News Stories
[
Clockwork Angels: The Novel Special Autographed / Numbered Editions
- July 23, 2012]
[
Clockwork Angels: The Novel Official Press Release - Neil Peart to Narrate the Audiobook
- May 29, 2012]
[
Clockwork Angels Novel Artwork Revealed
- May 11, 2012]
[
Clockwork Angels Novel Now Available for Pre-Order
- March 19, 2012]
[
Novelization of Rush's Clockwork Angels to be Penned by Kevin J. Anderson
- February 09, 2012]
---