Clockwork Angels Charting Update - Week #8 - Huge Jump Up!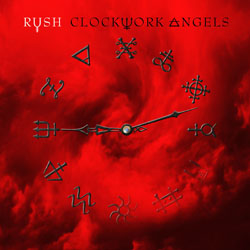 In its eighth week since being released, Rush's Clockwork Angels made a monumental jump to position #13 in the Billboard Top 200 Album Charts; up from position #70 last week! Billboard has indicated that, for the week, Clockwork Angels was the single greatest chart gainer in the Top 200 List.

The gain was no doubt fueled by the $0.99 MP3 Album Sale from Amazon.Com last week. Amazon is still selling the complete MP3 album at a discounted price; $5.00.

The album also jumped up in other Billboard charts over last week:

Top 200 Albums: #13 - up 57 spots from last week.
Top Rock Albums: #2 -- up 24 spots from last week.

Top Hard Rock Albums: #2 -- up 5 spot from last week.


The album did drop off of the coveted Taste Makers Album Charts however :-)

Haven't purchased your copy of Clockwork Angels yet? If so, you can do so HERE.
---
Related News Stories
[Clockwork Angels Charting Update - Week #7 - August 2nd, 2012]
[Clockwork Angels Charting Update - Week #6 - July 26th, 2012]
[Clockwork Angels Charting Update - Week #5 - July 19th, 2012]
[Clockwork Angels Charting Update - Week #4 - July 12th, 2012]
[Clockwork Angels Charting Update - Week #3 - July 5th, 2012]
[Clockwork Angels Charting Update - Week #2 - June 27th, 2012]
[Rush's Clockwork Angels Debuts at #2 on the Billboard Top 200 Album Chart - June 20th, 2012]
[Rush Release Clockwork Angels - To Rave Reviews - June 12th, 2012]
[Producer Nick Raskulinecz on Rush's Clockwork Angels - June 11th, 2012]
[Clockwork Angels Lyrics and Liner Notes and Album Artwork - oh my! - June 6th, 2012]
[New Audio Samples From Clockwork Angels Now Available - June 3rd, 2012]
[Inside Rush: Clockwork Angels Radio Special - June 2nd, 2012]
[Clockwork Angels Track Audio Samples Now Online - May 31st, 2012]
[Clockwork Angels Full Album Reviewed from The Digital Fix - May 9th, 2012]
[Producer Nick Raskulinecz talks Rush's Clockwork Angels - May 8th, 2012]
[Clockwork Angels Full Album Reviewed Track by Track - May 7th, 2012]
[Rush Clockwork Angels Tracklist, Trailer and Official Announcement Now Available - April 11th, 2012]
[Headlong Flight Single from Clockwork Angels Release Update - April 4th, 2012]
[Rush Clockwork Angels Album Cover and Tour Book Artwork Revealed? - April 3rd, 2012]
[Clockwork Angels Update - First New Song Title Revealed - Headlong Flight - March 28th, 2012]
[First Single from Clockwork Angels Coming Friday, March 30th? - March 15th, 2012]
[Clockwork Angels Release Date: May 29th, 2012 - March 2nd, 2012]
[Clockwork Angels Due Out in May According to PROG Magazine - February 20th, 2012]
[It's A Wrap: Rush Finish Recording Clockwork Angels - December 20th, 2011]
[New Guitar World Interview with Alex Lifeson - Talks Clockwork Angels - December 13th, 2011]
[New Geddy Lee Interview With Billboard Magazine - Update on Clockwork Angels - December 5th, 2011]
[Geddy Lee Update on Clockwork Angels - October 29th, 2011]
[Clockwork Angels Update from Rush Producer Nick Raskulinecz - September 21st, 2011]

---