Clockwork Angels: The Novel World Premiere Launch Coming August 23rd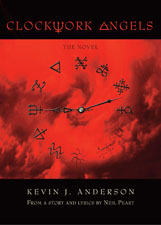 Author Kevin J. Anderson just posted an update to his blog indicating that the world premiere of his novelization of Clockwork Angels will occur on August 23rd in Toronto. The U.S. world premiere will occur on August 31st at DragonCon in Atlanta.

From the entry:

Toronto fans, we will be launching CLOCKWORK ANGELS: The Novel, first time ever on sale, on Thursday evening, August 23 at the Richmond and John Chapters (142 John Street) at 7:00pm. I'll be in Toronto as a guest at Fan Expo throughout the weekend, but this event—open to the general public—will be the first time the novel is available for sale. I will give a talk, answer questions, and autograph books…lots of them, I hope! For further details, see chapters.indigo.ca. This event is free, and I do not charge for autographs.

US fans, you'll have to wait an extra week. I WILL have plenty of copies for sale on August 31 at DragonCon in Atlanta.

To pre-order your copy of Clockwork Angels: The Novel, click HERE.
---
Related News Stories
[
Clockwork Angels Novel Preview Booklet Now Available for Download - New Artwork Revealed
- August 9, 2012]
[
Clockwork Angels: The Novel Special Autographed / Numbered Editions
- July 23, 2012]
[
Clockwork Angels: The Novel Official Press Release - Neil Peart to Narrate the Audiobook
- May 29, 2012]
[
Clockwork Angels Novel Artwork Revealed
- May 11, 2012]
[
Clockwork Angels Novel Now Available for Pre-Order
- March 19, 2012]
[
Novelization of Rush's Clockwork Angels to be Penned by Kevin J. Anderson
- February 09, 2012]
---