Clockwork Angels: The Novel Special Autographed / Numbered Editions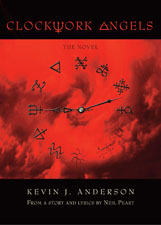 Kevin J. Anderson, the author of the upcoming novelization of Rush's Clockwork Angels album has just posted some exciting news about special autographed editions of the novel.

Limited to a total run of just 600 copies, Clockwork Angels: The Novel will be offered up in unique Gold and Silver Special Editions. From the press release:

ECW Press is thrilled to unveil two exciting special editions of CLOCKWORK ANGELS: The Novel (ECW Press, September 2012), the landmark literary collaboration between Rush drummer and lyricist Neil Peart and bestselling SF author Kevin J. Anderson. These two numbered special editions of CLOCKWORK ANGELS: The Novel will be available for preorder on Friday, July 27.

The Silver Edition, slipcased and autographed by both Kevin J. Anderson and Neil Peart, will be a beautiful addition to any collection. This limited edition of 300 copies is available from both ecwpress.com/clockworksilver and rushbackstage.com, for $74.95.

The Gold Edition is a must have for die-hard fans. Slipcased and signed by both authors, The Gold Edition is accompanied by a lithograph image from the book, signed by artist Hugh Syme, and a unique autographed page of the original CLOCKWORK ANGELS manuscript. Both pieces are presented in an attractive frame with an engraved and numbered plate. With only 302 copies available, the Gold Edition will retail for $299.95, and is available exclusively from rushbackstage.com.

There will be only 300 copies each of both the Silver and Gold editions available. Once they are gone, they are gone for good. For more information on this exciting offer, please check out Kevin J. Anderson's blog posting HERE.

Thanks to Ed from RushIsABand for passing along the news.
---
Related News Stories
[
Clockwork Angels: The Novel Official Press Release - Neil Peart to Narrate the Audiobook
- May 29, 2012]
[
Clockwork Angels Novel Artwork Revealed
- May 11, 2012]
[
Clockwork Angels Novel Now Available for Pre-Order
- March 19, 2012]
[
Novelization of Rush's Clockwork Angels to be Penned by Kevin J. Anderson
- February 09, 2012]
---